High Quality 500 mg Moringa Capsules for Sale
This product is made in the USA.
Moringa 500mg 120 capsules.
Premium Moringa Capsules New Super Food for 2013
Moringa Capsules For Simple Daily Use
Moringa oleifera capsules benefit us by providing a simple, easily digestible powerhouse of nutrition. Moringa grows in tropical parts of the world, and for the rest of the population who do not have ready access to fresh Moringa leaves, capsules provide an ideal solution. Moringa capsules contain powder from Moringa leaves, which have been dried at low temperatures to preserve the abundant nutrients – minerals, antioxidants, and amino acids.
A single Moringa capsule usually contains between 300 and 500 mg of Moringa leaf powder, depending on the capsule size. Although Moringa leaves are ingested in many different forms, Moringa capsules have been used for many years, even in places where the plant is grown. Capsules provide a convenient way to receive nutrients from this incredible plant, and are available in countries like the US, UK, and Australia where Moringa does not naturally grow...
Moringa oleifera capsules differ from most nutritional supplements in that they are a true whole food supplement.
Living up to its name as a superfood, Moringa contains approximately:
30% protein
All 8 essential amino acids (the only plant in the world to do so),
47 anti-oxidants
36 anti-inflammatory agents
25 multivitamins
All the appropriate co-enzymes required by the body to assist with absorption of these valuable nutrients
When compared to other food sources on a pound for pound basis, Moringa capsules contain:
7 times the vitamin C found in oranges
4 times the calcium found in milk, and twice the protein
4 times the vitamin A found in carrots
Thrice the potassium found in bananas
Thrice the iron found in almond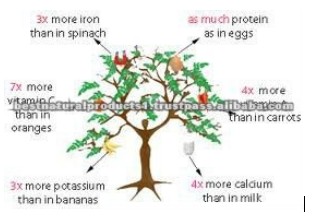 Put simply, Moringa capsules deliver a full balance of usable nutrients that your body readily absorbs for maximum benefit.
Moringa capsules are so safe, it can be used by children, expectant and lactating mothers, athletes, and the elderly alike. In fact, research shows that regular consumption of Moringa capsules by expectant mothers can increase their milk production by as much as 25%.
Taking Moringa capsules as an everyday dietary supplement can have dramatically positive effects on overall energy, stamina, and vitality. People who take Moringa capsules often notice a variety of beneficial changes in their lifestyle including:
Increased energy
Greater alertness
Better endurance
Increased focus and mental clarity
Many other positive changes
Moringa capsules come in either gelatin or vegetarian types of capsules, but as with a number of nutritional supplements, the preference is for vegetarian capsules which do not use animal by-products to produce them. A number of people have also noted they find vegetarian capsules easier to digest than gelatin ones.
Read more about why we use 100% vegetarian capsules for our Moringa capsules.